Geotextiles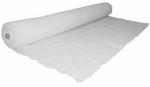 Made entirely from virgin fiber of high-tenacity polypropylene, geotextiles (or felts of protection) commercilized and used by us are characterized by high mechanical and hydraulic performance and high durability characteristics.
Chemical or thermal treatments are not used during the production and the geotextile is stabilized against UV rays, thus becoming an ideal product for the construction of natural ponds and reservoirs.
The weights we stock are mainly 280 and 400 gr / sqm. But the most important feature is the high ratio of anti-puncture coefficient, which makes this geotextile highly effective for the protection of waterproofing liners.


Anti-root slabs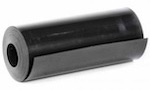 These are slabs made of rigid HDPE material of 1 mm that are buried in order to protect the liner from ruptures caused by the roots of plants (especially rhizomatous). In wetland systems is highly recommended to use the anti-root slabs inside the pond to protect the waterproofing from the waterplants roots (especially if you use the Phragmites).
Technical features
Very long lifespan
Resistant to UV rays
Flexible and easy to install
Resistant to chemical substances
Impervious to tree roots (at least 2 m from the tree, not around the tree)
Waterproof to bamboo roots (only 1.5 mm)
Resistant to micro-organisms